Forest Research and Outreach Blog
Reposted from the University of California newsroom
Just how far apart are Republicans and Democrats when it comes to views on climate change? Not all that far, as it turns out. They're just too party-focused to notice.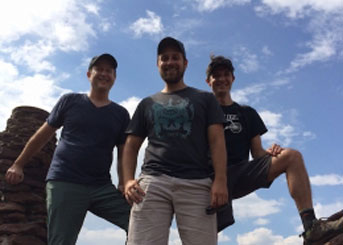 That's according to scientists from UC Santa Barbara and the University of Colorado Boulder in new research just published in the journal Perspectives on Psychological Science.
Surveying 2,000 adults, the research team found that, across party lines, there is general agreement that climate change is real, that it is caused by human activity and that something should be done to mitigate it.
The study further reveals that people are more likely to support the same climate policy proposal when they think that their own political party supports it — and that both Democrats and Republicans overestimate how much their peers oppose the ideas of the other party.
"Democratic and Republican citizens alike evaluate a carbon tax or cap and trade policy based on who proposed it — above and beyond their thoughts on the details of the policy, or on whether it is consistent with their beliefs about the importance of climate change," said David Sherman, a UC Santa Barbara professor of psychological and brain sciences and senior author on the paper. "They do this despite stating themselves that policy considerations should be more important than partisanship."
Added lead author Leaf Van Boven, a psychology and neuroscience professor at CU Boulder, "We found that people routinely place party over policy and disagree for the sake of disagreeing."
Disagreeing for the sake of disagreement
For their project, Sherman, Van Boven and Phil Ehret, who just completed his Ph.D. in social psychology at UC Santa Barbara, set out to explore the psychological reasons that — despite warnings about economic, social and humanitarian impacts of climate change — U.S. lawmakers have yet to enact a national policy.
Previous studies and conventional wisdom suggested this was primarily because most Republicans are skeptical of climate change.
So the researchers conducted two studies in 2014 and 2016 with diverse national panels of over 2,000 U.S. adults, asking: Is climate change happening? Does it pose a risk to humans? Is human activity responsible? And can reducing greenhouse gas emissions reduce climate change?
Sixty-six percent of Republicans, 74 percent of Independents and 90 percent of Democrats said they believed in human-caused climate change and the utility of reducing greenhouse gases.
"Just before the presidential election when most Republicans were voting for Trump, who characterized climate change as a 'hoax,' they nevertheless expressed a belief in climate change," noted Van Boven.
Policy is nearly irrelevant
As part of the 2014 study, the researchers showed participants one of two proposed policies. One was a cap-and-trade policy that historically has been championed by Democrats. The other was a revenue-neutral carbon tax based on policies recently advocated by Republicans. Participants were told that 95 percent of Republicans and 10 percent of Democrats supported the policy, or vice versa.
Regardless of the content, Democrats supported policies from Democrats more strongly, and Republicans supported policies from Republicans more strongly. "If you want to know who will support a climate policy, just look at which political party supports it," Ehret said. "Climate change belief alone is not the whole story."
In a related study of 500 people, co-authored by the same researchers and published in Social Psychological and Personality Science, the authors used actual language from a proposed climate change policy that was part of ballot initiative I-732 in Washington State in 2016.
The researchers highlighted either Democrats or Republicans who genuinely supported or opposed the policy to the study volunteers and found similar results.
"What is more, people anticipate that others, their fellow Republican and Democratic citizens will be even more polarized and influenced by political party than they actually are," Sherman said. "This creates a false norm of consensus and unanimity within each party that, for example, other Republicans will reject any policy proposed by Democrats. This perception of within-party unanimity makes it very difficult to cross party lines."
In a unique contribution of their paper, the researchers also interviewed four retired members of Congress who have worked on environmental issues: Mickey Edwards, R-Okla., Robert Inglis, R-S.C., David Skaggs, D-Colo., and Tim Wirth, D-Colo. All four reported that as climate change became closely associated with Democrats, Republican disagreement increased.
"If you were interested in supporting climate change, that meant you were interested in supporting Al Gore," Wirth told the researchers. In his interview, Edwards said, "Nobody wants to be an outlier — nobody."
This distrust of the other side, combined with a false assumption that the two parties sharply disagree has made it difficult for good, bipartisan ideas to gain traction, according to the researchers.
"One of the foundational insights of social psychology is the under-appreciated influence of social norms and that actions are determined more by perceptions of norms than the actual norms," Sherman said. "It is crucially important for lawmakers and voters alike to be informed about what others actually think about environmental issues such as climate change.
"There are many reasons the media focuses on differences between partisans," he added, "but our work shows why it is important to highlight this strong consensus as well as the even stronger consensus that citizens should evaluate policies on their details and impact and ability to address problems, and not based on which party proposes them."
/h3>/h3>
Reposted from UCANR News
After 11 years leading the College of Natural Resources at UC Berkeley, Dean J. Keith Gilless stepped down from his post in June. As dean, Gilless has been dedicated to supporting CNR's diverse research, teaching and outreach activities. He has led the college through major growth, launched a number of interdisciplinary initiatives and tackled infrastructure-renewal projects. After completing his second term, Gilless—who has been a professor of forest economics at Berkeley since 1983—will continue to teach, conduct research and serve as the chair of the California Board of Forestry and Fire Protection.
Looking back on the past 11 years, what are your proudest moments?
The entire CNR community has a lot to feel proud about. We've doubled the number of undergraduates in the College by responding to students' intellectual and career interests and creating a strong culture of advising and student support. Despite budget constraints, we found ways to create two new cross-campus centers: the Berkeley Food Institute and the Institute for Parks, People, and Biodiversity. We launched the Master of Development Practice program. We became more successful and sophisticated in our fundraising efforts, allowing us to increase graduate student support and make some much-needed improvements to our infrastructure. We expanded our network of research forests at a pivotal time for understanding the effects of climate change on California's ecosystems. And we've been a major contributor to campus-wide initiatives in biofuels and gene editing.
Beyond this long list, what makes me proudest is that UC Berkeley has come to recognize CNR as one of its most successful and dynamic centers of excellence. Our college embodies the relevance in modern society of the vision that created the land-grant universities. We share the mission of Berkeley —and of public education generally—to serve society through problem-solving research and discovery, instruction that enables students to realize their potential, and public service. Here, we really do aspire to "See the bigger picture and make a better world."
Favorite memory of being dean?
That's easy: congratulating students at commencement. Education transforms lives. My own education—and my participation in the research and educational mission of UC Berkeley—transformed my life and my understanding of society and the environment around me. Berkeley students are overwhelmingly the first or second generation in their family to attend college. When they cross the stage in cap and gown, and their families and other loved ones applaud and cry, I feel privileged to have been allowed to be a part of their joy on that day.
What are the needs and opportunities you see for the College going forward?
Continued success for CNR depends on our ability to continue to grow our philanthropic base. Success here will help us to improve our facilities, fund cutting-edge research, and achieve strong financial support for our graduate students. We must also ensure that all members of our community feel they are heard, valued, and respected. I firmly believe that we can meet these challenges, in part because what we do is so directly relevant to many of the difficult problems facing our world—these are problems people want to solve. Complex issues require interdisciplinary solutions, and that's something at which this College excels.
CNR doesn't exist in a vacuum. Our fate is inextricably tied to the fate of the campus, and the fate of public education. No single unit can succeed without collaborating across administrative boundaries—and without the campus successfully addressing its financial challenges with respect to aging infrastructure, accessibility, and housing, among other issues. CNR needs to help Berkeley thrive in order to thrive itself.
Any other thoughts?
I've been part of the Berkeley and CNR community for 35 years and have enjoyed it all. I never cease to be amazed at the opportunities to interact with brilliant and inquisitive students; faculty colleagues who set the bar for excellence in research, teaching, and service; and dedicated staff who keep the College running no matter how difficult things get. I have never known what to expect at each new stage in my career here, other than that I would find myself working with people who inspire me to try harder to do a good job. As I change my business card back to reading simply "Professor of Forest Economics," I know this feeling will continue.
The Center for Forestry and Center for Fire Research and Outreach are merging to become Berkeley Forests!
As we all know, forests and fire are inextricably linked in California. Historically, both Centers have carried out research, outreach, and education on human interactions with California ecosystems. Combining the Centers under one roof will facilitate the work of our co-directors, Dr. Scott Stephens and Dr. William Stewart, our Berkeley Forests staff, and management of our new research forest, Grouse Ridge.
To this end, we are proud to release our new website at https://forests.berkeley.edu/ The new website features easy to access information about our forests, fire resources, information on current research, our long-term datasets for our forests, and more.
With these changes, we will also be hiring a new Policy Analyst (located at the Berkeley campus). We seek someone with experience in and knowledge of forests, fire, grant writing, social media, website work, and GIS/data analysis. An official position will be released shortly on the Berkeley jobs website, but please make sure to follow us on social media or email one of or co-directors so you don't miss it!
We're also merging all our social media pages! The Center for Forestry and Center for Fire facebook pages will be closed and transition to the Blodgett Forest Research Station page to become Blodgett Research Station at Berkeley Forests. Please like us at our new home if you have not done so already!
On twitter, the @ucforestcenter page will be closed, and the @ucfirecenter page will become @berkeleyforests. If you are only on the @ucforestcenter, please make sure to change your follow to @berkeleyforests!
If you have questions or concerns, please contact Berkeley Forests' co-directors at billstewart@berkeley.edu or sstephens@berkeley.edu
Reposted from the Confluence, blog of the California Water Resources Institute
Reposted from UCANR News
The changing climate predicted for California – including less rain and higher day and nighttime temperatures – is expected to cause chronic stress on many street tree species that have shaded and beautified urban areas for decades.
Realizing that popular trees may not thrive under the changing conditions, UC Cooperative Extension scientists are partnering with the U.S. Forest Service in an unprecedented 20-year research study to expand the palette of drought-adapted, climate-ready trees for several of the state's climate zones.
"The idea is to look at available but under-planted, drought-tolerant, structurally sound, pest resistant trees for Southern California that do well in even warmer climates," said Janet Hartin, UCCE horticulture advisor in San Bernardino County.
Hartin, a 34-year veteran advisor, said the project is her first to stretch to 20 years; it will likely extend past her tenure with UCCE.
"I'd like to retire in five or six years," she said. "But I'm very excited about being a pioneer in a study that will continue with my successors. I think it's important for our children and our children's children, as well as for the environment."
At the end of 2019, with three years of data on tree health and growth rates, the scientists expect to be able to publish the first results and make them available to arborists, urban foresters and residents throughout the regions of the study.
Twelve tree species were selected for each climate zone in the comparative study, with several area parks used as control sites. Hartin and her Southern California research collaborators – UCCE advisors Darren Haver of Orange County and Jim Downer of Ventura County – worked closely with UC Davis plant biologist Alison Berry, UC Davis research associate Greg McPherson and USFS research urban ecologist Natalie van Doorn to select promising species.
They looked for trees that are already available at local nurseries, but are underutilized. The trees in the project exhibit drought tolerance and disease resistance, plus produce minimal litter. The researchers also sought trees that would provide ample cooling shade for a long time – ideally 50 years or longer.
The varieties come from areas around the world with climates similar to California. Two trees planted in replicated plots at the UC Riverside Citrus Field Station are native to Australia, two are native to Oklahoma and Texas, one is native to Asia and two are non-native crosses of other trees. Three of the trees are native to California: the netleaf hackberry, Catalina cherry and island oak.
"Trees are a long-term investment," Hartin said. "A tree will live 50, 70, 90 years. The proper selection is very important to help ensure longevity."
Making the long-term investment with the proper selection yields considerable returns. In a warming world, trees are natural air conditioners.
"Urban areas create heat islands, with dark asphalt surfaces reradiating heat. Cities can be 10 to 20 degrees warmer than the surrounding environment," Hartin said.
Other tree benefits include soil health and stability, wildlife habitat and aesthetic beauty.
Following are a sampling of trees that are part of the comparative study:
Acacia – A 20-foot-tall, 20-foot wide evergreen that is drought resistant, and withstands moderate irrigation. Native of Australia.
Blue palo verde – A tree that reaches about 25 feet in height, the Blue palo verde is drought resistance and lives 50 to 150 years. Its trunk, branches and leaves have a blue-green hue. Native to the southwestern U.S. and Mexico.
Brazilian cedarwood – A native of Brazil and Paraguay, the deciduous tree grows to 50 to 65 feet. The tree produces pale yellow tubular flowers in the spring.
Catalina cherry – Native to the chaparral areas of coastal California, the Catalina cherry grows to 30 feet high. The evergreen tree tolerates drought when mature. It produces sweet purple-to-black edible fruit.
Chinese pistache – A deciduous tree with beautiful fall color. Grows to 35 feet tall, 30 feet wide. Drought resistant, but tolerates moist soil. Native to central and western China.
Desert willow – Growing to 30 feet tall and living 40 to 150 years, the desert willow tolerates highly alkaline soil and some salinity. A deciduous tree, it boasts large pink flowers all summer that attract hummingbirds and other wildlife. Native to the southwestern U.S. and northern Mexico.
Escarpment live oak – Native to west Texas, this tree is cold hardy and drought tolerant. Typically evergreen, it can be deciduous in colder climates.
Ghost gum – Very tall at maturity and drought tolerant. An Australia native.
Indian laurel – Commonly called a ficus, this is a 35-foot-tall, 35-foot-wide tree at maturity that is drought resistant and tolerates highly alkaline and saline soils. Shade potential is high. Native of Asia and Hawaii.
Ironwood – A southwestern and northern Mexico native, Ironwood is semi-drought resistant once mature and tolerates alkaline soil. Ironwood, which grows to about 33 feet tall, can live 50 to 150 years.
Island oak – This tree is native to five of six California off-shore islands. Drought tolerant, it grows to nearly 70 feet tall when mature.
Maverick mesquite – Native to the southwestern U.S. and northern Mexico, this tree does well in full sun and is drought resistant once established. The tree grows to 35 feet tall. The Maverick mesquite is a thornless variety.
Mulga – A versatile and hardy tree that grows 15 to 20 feet in height, the mulga – a Western Australia native – tolerates hot and dry conditions. The leaves are evergreen and the tree has yellow elongated fluffy flowers in spring.
Netleaf hackberry – A California native, the netleaf hackberry grows to 30 feet. Its deep root systems and heat resistance makes the tree idea for urban conditions.
Rosewood – Native to southern Iran, Indian rosewood grows to 65 feet tall, and 40 feet wide. Evergreen. Semi drought resistant and intolerant of alkaline soil.
Shoestring Acacia – Evergreen and 30 feet tall when mature, shoestring acacia is drought resistant and thrives in slightly acidic to highly alkaline soils. Native to Australia.
Tecate cypress – A native of Southern California and Mexico, the Tecate cypress is very drought tolerant. Its foliage is bright green. Young trees are pyramidal in shape, becoming more rounded or contorted with age.
Partners in the tree study are Los Angeles Beautification Team volunteers, LA Parks and Recreation team, Chino Basin Water Conservation District, and Mountain States Wholesale Nursery.
Funding and other support is provided by LA Center for Urban Natural Resources Sustainability, ISA Western Chapter, Britton Fund, USFS Pacific Southwest Research Station, and the UC system.